CVE Numbering Authorities
CVE Numbering Authorities (CNAs) are organizations from around the world that are authorized to assign CVE IDs to vulnerabilities affecting products within their distinct, agreed-upon scope, for inclusion in first-time public announcements of new vulnerabilities. These CVE IDs are provided to researchers, vulnerability disclosers, and information technology vendors.
Participation in this program is voluntary, and the benefits of participation include the ability to publicly disclose a vulnerability with an already assigned CVE ID, the ability to control the disclosure of vulnerability information without pre-publishing, and notification of vulnerabilities in products within a CNA's scope by researchers who request a CVE ID from them.
To review the products covered by each CNA, visit the Request a CVE ID page.
| | | |
| --- | --- | --- |
| CNAs | Documentation for CNAs | CNA Working Group |
---
Growth of CNA Program Worldwide
There are 184 organizations from 31 countries participating as CNAs as of September 14, 2021:
CNAs World Map as of September 14, 2021
Number of CNAs by country as shown at right:
Australia: 2
Austria: 1
Belgium: 1
Canada: 6
China: 11
Colombia: 1
Denmark: 1
Estonia: 1
Finland: 2
France: 2
Germany: 8
India: 2
Ireland: 1
Israel: 4
Japan: 7
Latvia: 1
Netherlands: 3
New Zealand: 1
Norway: 1
Romania: 1
Russia: 2
Slovak Republic: 1
South Korea: 4
Spain: 2
Sweden: 2
Switzerland: 3
Taiwan: 4
Turkey: 2
UK: 5
USA: 101
Vietnam: 1
View the current list of CNAs.
---
How to Become a CNA
Contact the CNA Coordination Team.
Fill out the registration form.
Attend an introductory session.
Successfully create CVE ID records from examples.
Why Become a CNA?
Thank you for your interest in becoming a CVE Numbering Authority (CNA).
Benefits
Demonstrate mature vulnerability management practices and a commitment to cybersecurity to current and potential customers.
Communicate value-added vulnerability information to your customer base.
Control the CVE publication release process for vulnerabilities in your scope.
Assign CVE IDs without having to share embargoed information with another CNA.
Streamline vulnerability disclosure processes.
Cost
There is no monetary fee.
CNAs volunteer their own time for their own benefit.
There is no contract to sign.
Requirements
Have a public vulnerability disclosure policy.
Have a public source for new vulnerability disclosures.
Agree to the CVE Terms of Use.
Questions?
---
CNA Onboarding Slides & Videos
These videos and slides on the CNA Onboarding Guidance playlist on the CVE Program Channel on YouTube should be reviewed by new CNAs in the order presented below prior to your onboarding meeting with the CNA Coordination Team.
view as slides: English | Japanese
view as slides: English | Japanese
view as slides: English | Japanese
view as slides: English | Japanese
view as slides: English | Japanese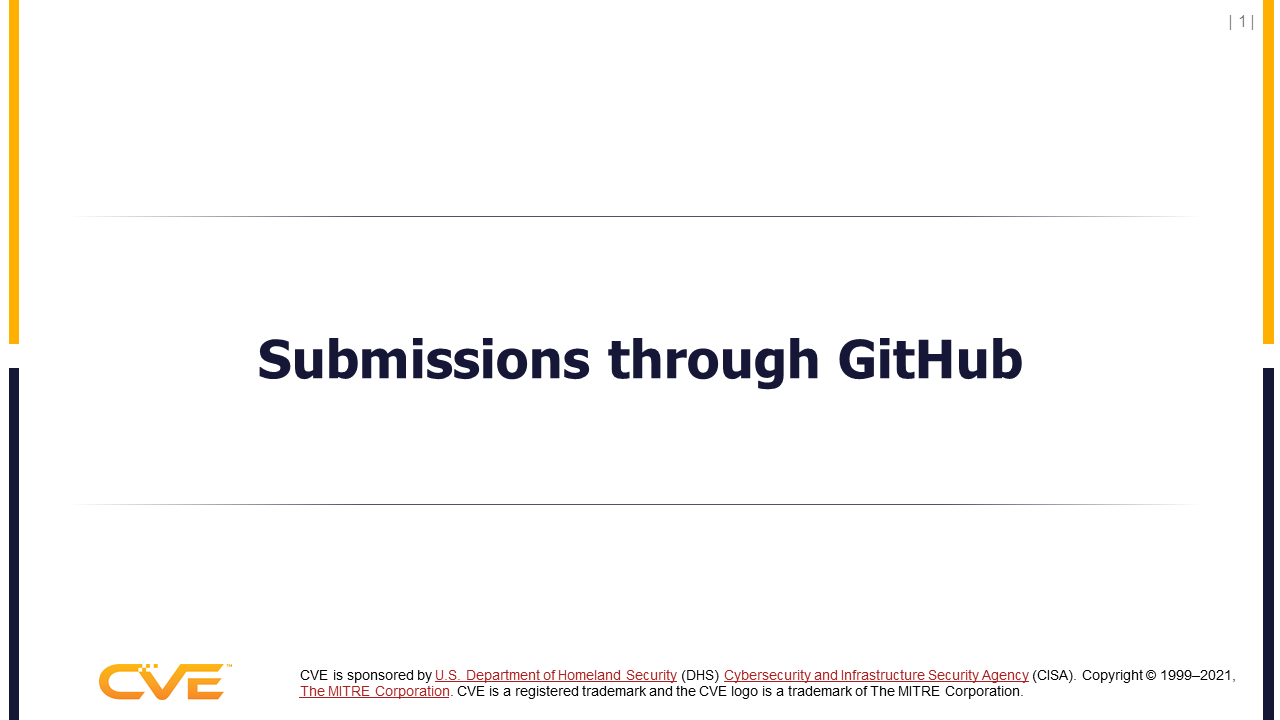 view as slides (only): English | Git setup documents
view as slides: English | Japanese
Onboarding Questions or Help:
---
Submitting CVE Record Information to CVE Program
Please use one of the following two methods to submit CVE Record information to the CVE Program.
(1) CVE Request Web Form
The CVE Request web form is the preferred method for submitting CVE Record information.
This method supports all three file types: Flat File, CSV file, and JSON.
NOTE: The form has limits on form field sizes, which may cause problems when submitting multiple CVE ID requests at one time.
Use this method for both new and updated submissions.
Submitting through the CVE Request Web Form:
Visit the CVE Request web form.
Select "Notify CVE about a publication" and enter your email address.
Fill in the form.
NOTE: "Link to the advisory" and "CVE IDs of vulnerabilities to be published" fields are required.
The assignment information (in Flat File, CSV, or JSON format) should be entered in the "Additional information and CVE ID description updates" field.
NOTE: Alternatively, you can send the CVE Record information as a file attachment in a reply to an email message generated by CVE's ticketing system when the submission has been received.
Enter the security code.
Press "Submit Request."
(2) Git
This method supports CVE JSON only.
NOTE: Avoid files with MS-DOS style line endings (CR/LF).
This method is suited to both new and updated submissions.